ISO 26000
---
What is ISO 26000 Social responsibility :
ISO 26000 for corporate social responsibility outlines international recommendations for making your organization more socially responsible. It will guide you in building and delivering a long-term social responsibility strategy, whatever the nature of your business. An enhancer of social responsibility, ISO 26000 corporate social responsibility can help you address everything from working practices to environmental policies, sustainable development, and the communities that you impact. .
ISO 26000 Model: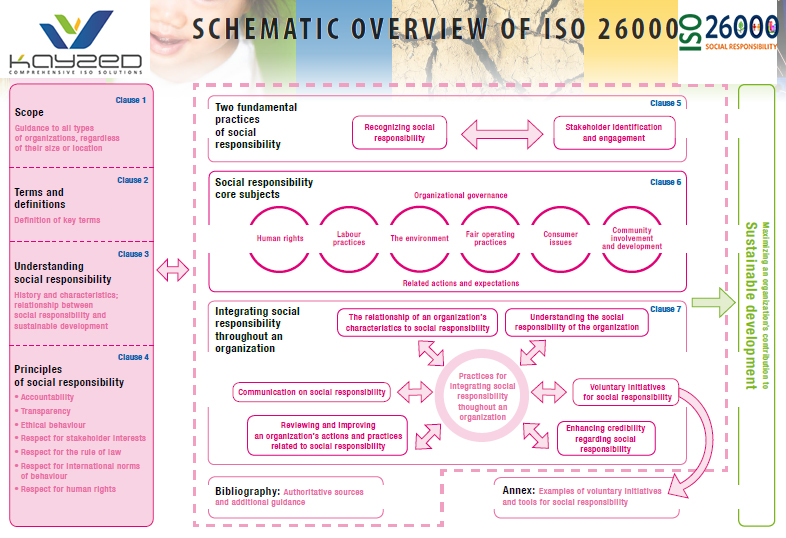 Any organization can benefit from implementing ISO 26000.This standard will enable businesses to bring together best practice in terms of workforce, customers, neighbors fair trade, and the all important demands on our natural resources and our climate
Design and build a social responsibility strategy tailored to your business.
Adapt this strategy to any legal, cultural or political environment.
Manage social or environmental issues specific to your business.
Engage employees, communities and business partners in your strategy.
Win greater trust and credibility as a socially responsible organization t.
Factual approach to decision making.
Mutually beneficial supplier relations.
Continuous improvement.
ISO 26000 Social Responsibility
ISO 26000 is not a management system standard. It is not intended or appropriate for certification purposes or regulatory or contractual use. Any offer to certify, or claims to be certified, to ISO 26000 would be a misrepresentation of the intent and purpose and a misuse of this International Standard. As ISO 26000 does not contain requirements, any such certification would not be a demonstration of conformity with this International Standard.
What is Social Responsibility:
Every enterprise is located within a socio-economic context where returns from human ingenuity, innovation, reputation, trust and credibility, and other intangible assets accrue results. For Small and Medium-Sized Enterprises (SMEs), which are traditionally closer to their clients and more ingrained within the communities in which they operate, ethical practices, minimizing environmental impact, and ensuring fair and transparent processes beneficial to all stakeholders can be a significant competitive advantage. SMEs often function responsibly and beneficially, but do not know how to use the potential of responsibility to their advantage. There exist a number of firms, that enjoy the good will and trust of the communities in which these firms are rooted, stemming from good practices of the firm and benefits accrued to those communities.