ISO 14001
---
ISO 14001 Environment Sustainability Framework Dubai
What is ISO 14001 Environmental Management System :
The Environmental Management System Series, ISO 14000, has been developed to help organizationscontrol and eliminate the impact of their activities, products or services on the environment. ISO14001 is specific standard for Environmental Management Systems designed to provide assistance toorganizations that wish to implement or improve an environmental management system and therebyimprove their environmental performance. This International Standard is consistent with the conceptof sustainable development and compatible with diverse cultural, social and organizational frameworksand systems of management.
ISO 14001 Model: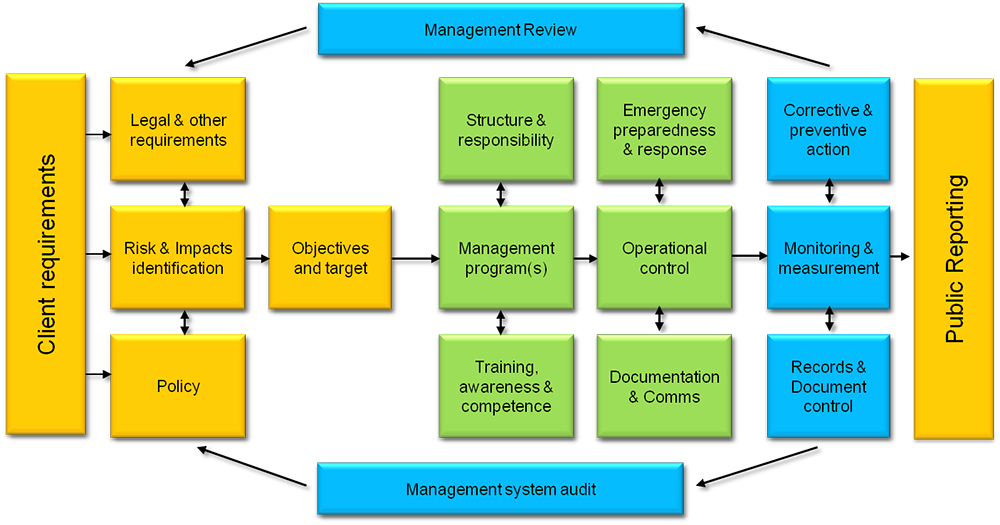 Any organization can benefit from implementing ISO 14001as its requirements are underpinned by eight universal management principles.
Customer focused organization.
Leadership.
Involvement of people.
Ensuring process approach.
Systematic approach to management.
Factual approach to decision making.
Mutually beneficial supplier relations.
Continuous improvement.
EMS
ISO 14001 focuses on the identification, elimination, and continual improvement of aspects andimpacts within organization. The environment management system methodology is based onplanning for aspect identification, impact assessment and control. The ISO 14001 EnvironmentalManagement System (EMS) incorporates ISO management system elements to address these risks.
Many organizations are implementing an Environmental Management System (EMS)) to enhance an organization's ability to anticipate, identify andmanage its interactions with the environment, meet its environmental objectives and ensure ongoing compliance with applicable legal requirementsand with other requirements to which the organization subscribes.
Approach and Methodology
ISO 14001 Certification:
Gap Analysis.
Initial Aspect Identification and Impact Assessment.
stablishing the Control.
Establishing the documentation.
Implementation.
Internal Audit.
Management Review.
Stage I Audit.
Stage II Audit.