ISO 27001:2013
---
Information Security ISO 27001 Dubai
What is ISO 27001:2013 ISMS
The ISO 27001 standard is also structured to be compatible with other management systems standards, such as ISO 9001 and it is technology and vendor neutral, which means it is completely independent of any IT platform.
Any organization that holds sensitive information is a candidate for ISO 27001 certification. In particular, companies in the healthcare, finance, public, and IT sectors can benefit greatly from a certified ISMS. This standard will help your company coordinate all your security efforts both electronically and physically, coherently, cost effectively and with consistency and prove to potential customers that you take the security of their personal / business information seriously.
ISO 27001:2013 Model: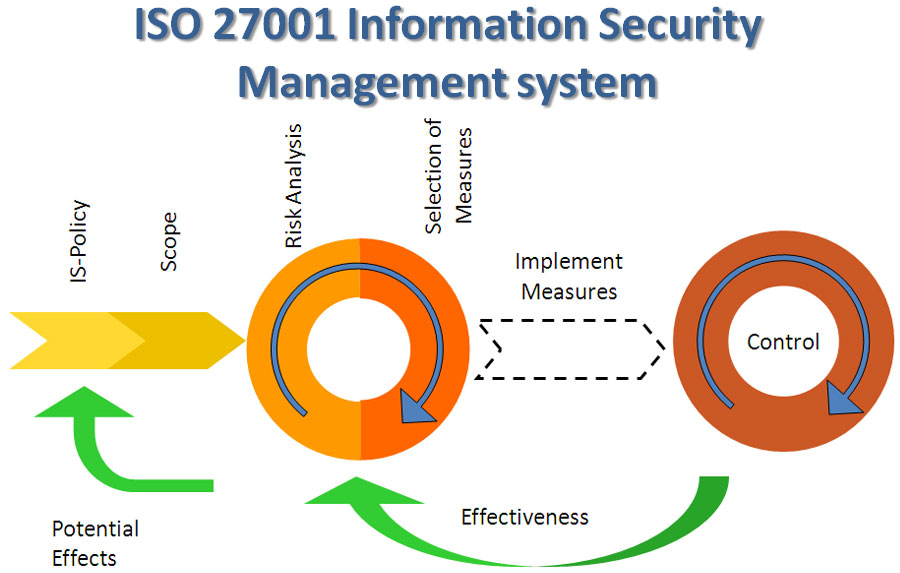 Any organization can benefit from implementing ISO 27001
ISO 27001 sets out how an organisation should approach its information security management project and specifies the essential components. Recognised internationally, achieving certification provides credibility for those claiming their client information is secure.
Customer focused organization.
Reduces and prevents information security risks.
Increased reliability and security of systems and information..
Improved customer and business partner confidence.
Identify risks and put controls in place to manage or reduce them.
Gain stakeholder and customer trust that their data is protected.
Improved management processes and integration with corporate risk strategies.
Continuous improvement.
ISMS
Our services are essential for businesses of all types whether it is to get products to market, meet contractual and regulatory requirements or improve quality, safety, efficiency and sustainability./p>
The Benefits of ISO 27001:2013:
ISO ISMS Certification helps in:
Customer satisfaction. Deliver products that consistently meet customer requirements.
Reduced operating costs. Continual improvement of processes and resulting operational efficiencies mean money saved.
Improved stakeholder relationships. Improve the perception of your organization with staff, customers and suppliers.
Improved risk management. Gain a greater understanding of organizational risks; focus on consistency and traceability of products to help prevent problems.
Proven business credentials. Independent verification against recognized standards speaks volumes.
The owner of a registered mark is entitled to a presumption of mark ownership and exclusive use since the application filing date.
Open doors to win more business. Procurement specifications often require certification as a prerequisite for suppliers.